Martin and I first met, aged 11, at school.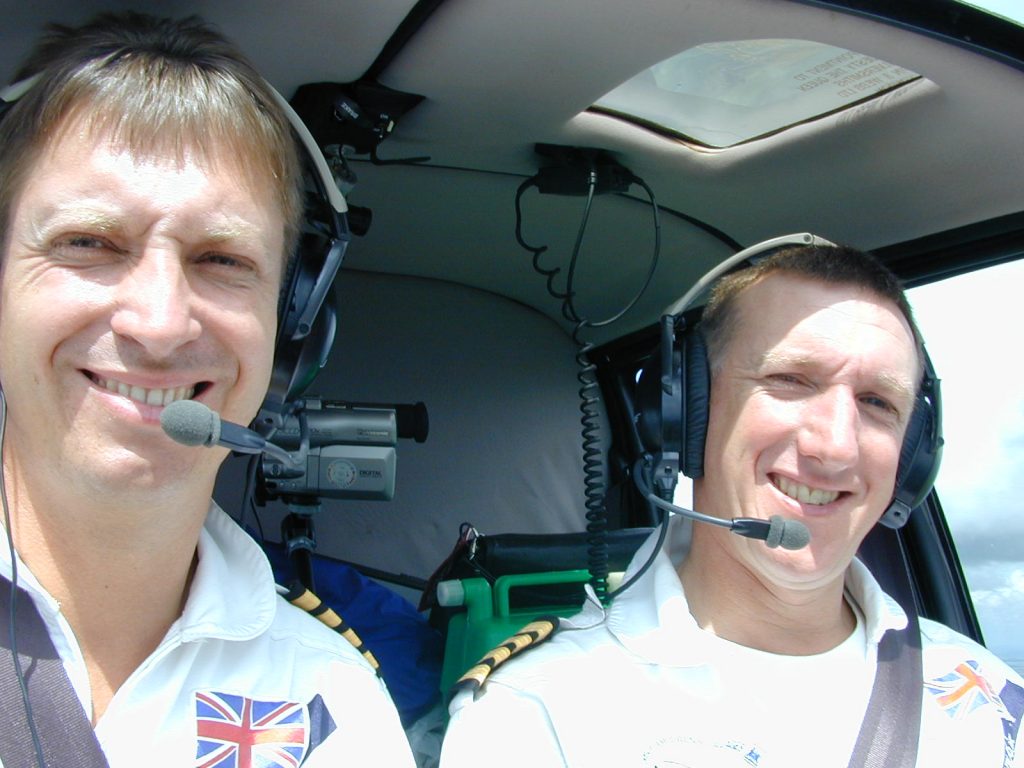 As boys we were always keen on flying, to the extent that as boys we'd both made lots of Airfix models of Spitfires, which we used to set fire to and launch out of Martin's attic bedroom window, but it took us a while to get up in the air ourselves. I had done a lot of sailing, both in dinghies and later in some quite serious yachts, even though I suffered quite badly from sea sickness, and a lot of motorcycling, which helps when you become a dispatch rider as I did soon after leaving school. So it seemed natural that flying was the next thing to try.
We first got off the ground in gliders. Gliding is a fantastic way to get up in the air, but it did seem to involve a lot of work for what you got out of it. You pushed other people's gliders around the field all day, in exchange for just four minutes in the air yourself, and then you got to clear up afterwards. And take-off is scary.
Needing to be more frightened still, Martin bought a hang-glider. I stood at the top of the hill with my arms folded. It became one of Martin's passions, and he became really expert at it, but it wasn't my thing. Too much waiting around on a hilltop waiting for the perfect conditions for my liking.
Next, we moved from gliders to powered flight. Our small motorbike despatch courier business in London had begun to do quite well, and we didn't have to pay ourselves much out of it, as we were both still single. So with our first real profits, achieved in our fifth year, we decided that we'd had enough of being sensible and reinvesting everything back into the business. We listened to our instincts, ignored all advice, bought a small four-seater aeroplane for £25,000, and learned to fly it at Biggin Hill.
For the average cautious beginner, a flying license for small private aeroplanes in the UK is useable on about ten weekend days a year. Britain is a rather damp little island, just over half way from the equator to the North Pole. That's just at the point where warm air from the one meets cold air from the other, and cloudy and rainy weather is the inevitable consequence. This, together with the need to find your way to a place with a few hundred yards of concrete strip every time you want to land, means that for those of an adventurous spirit the restrictions of the sport soon begin to weigh more heavily than the freedoms. So the newly qualified but adventurous pilot either gives up, or looks for a new challenge.
And so I tried helicopters. At the time, at the end of the eighties, helicopters still had millionaire status in the public mind. That and air-sea rescue, using the kind of machines where you needed a ladder to climb up to the cockpit. Suddenly, from California, there was a small personal two-seater available to train on, the Robinson R22. It was the size of a fairground dodgem, and it cost no more than a nice premium saloon car to buy. You could buy a full training course for the price of a family skiing holiday. I thought I could just about afford it, and went for a trial lesson.
Every now and then in life you find something that you really feel at home with. I had always felt that other people were effortlessly better than me at most things; exams, drama, music, and anything involving the use of a ball. Yet here was something I could do from the first moment I tried it. I just took hold of the controls, relaxed, and was hovering it. It's a really weird feeling, being in charge of this thing clattering away, with no visible support, a few feet above the grass of the airfield. Your brain keeps looking for a rational explanation, as it does when you're watching a clever card trick. But there appears to be nothing rational about it; it's just very noisy and complicated.
I started building all sorts of plans in my head. All I had to do now was learn to fly the thing.