If you've ever felt restless in your job, and in need of adventure, the book about our trip is perfect for you.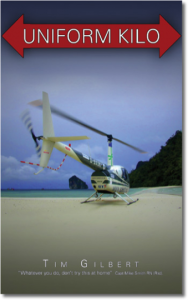 Two British amateur helicopter pilots take seven weeks off work to try to fly a tiny helicopter from Cambridge to Adelaide. It seemed like a good idea at the time. Along the way they are entertained by Libyan Secret Policemen, shot at by Egyptian border guards, and are fed raw liver in Jordan, before being imprisoned by Pakistani soldiers in the middle of a government coup. Will nothing stop them?
Honoured by the Air League of Great Britain for outstanding aviation achievement, Tim Gilbert tells this adventure story with quiet humour and the kind of eye for detail that makes Ian Fleming such a great read.
Buy now:
Reviews:
The most fun (which lasts 7 weeks) you can have in a helicopter?
★★★★★
"
Uniform Kilo is a thrilling read which gives a real insight in Tim and Martin's epic adventure, with a glimpse of the logistics involved to undertake such a feat. Both the highs and the lows of this long journey are well described, the fears and risks are palpable but the story still manages to inspire. My only criticism would be after following the journey in such detail the final section in Australia seemed to end quickly, as a reader I wish it could have lasted a little longer. Highly recommended for any budding PPL(H) student who wants a break from the textbooks, or simply any reader who is interested in travel and adventure.
"
Inspiration for your flying
★★★★★
"
I always thought helicopters were for local work and short flights only but Tim clearly shows that much more can be done and he does it in a way, which reminds me one of the favourite books of my childhood, Jules Verne Five Weeks in a Baloon. With Tim's unique sense of humor it makes Uniform Kilo one of the few books I am going to read more than once. And what is more - I feel I cought the bug of long distance helicopter flying having just returned from my first real cross country helicopter flight. It is certainly not going to be thirteen thousand miles but I can imagine exploring more distant European countries in a helicopter now. Thanks Tim.
"
Leave your own review: